Vegetation Management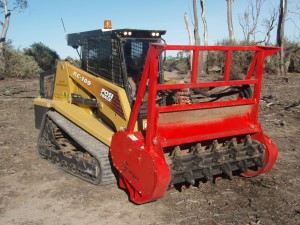 Joudi Enterprises is continually upgrading and improving its equipment which enables us to stay at the leading edge of advances in technology. By doing this we can offer the latest equipment to supply a cost effective and technologically advanced service to the agricultural, water supply, environmental industries.  The service provides, total channel maintenance, land and vegetation management as well as specialising in fire prevention works through the use of a versatile, multi task compact track loader with rubber tracks, capable of accessing wet, sandy, heavily timbered or difficult areas, offering environmentally sensitive low ground pressure with minimal ground disturbance. These sites include Drains, Road verges, Rail lines, Irrigation channels, Lake Frontages, Forest Areas, Swamps, Reserves, General grass management areas Property boundaries.
This combination of specialised equipment includes : H/D flail mower, (1.8m cutting width),  H/D forestry Mulcher, (1.5m cutting width), 7m custom spraying unit including 4m shielded boom spray, 600 mm & 300 mm reversible rippers, 4 in 1 clam bucket, pallet forks with extensions,  land leveller (smudge bar), safety cage ( lift platform ), Crane jib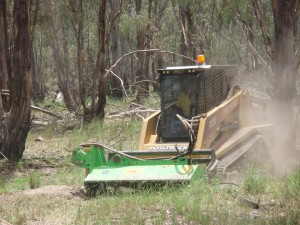 These attachments help to provide an all encompassing maintenance service for agricultural and environmental based industries.
 Joudi Enterprises can assist with site preparation and all aspects of vegetation removal and management. We will also assist with vegetation removal permits.