Fire Prevention & Fuel Reduction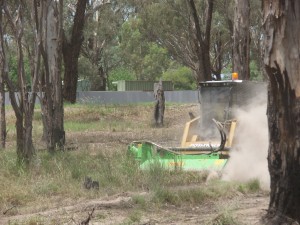 Fire prevention is a property and land management issue. Bushfires can and do happen. The spread of bushfires is influenced by Weather, topography (lay of the land) and fuel.
While there is nothing we can do to alter the weather or lay of the land, we can manage the type, arrangement, and quantity of fuel that is available to feed the fire. The key to this is management of fine fuels such as leaf litter, grass, shrubs, bark and twigs on or close to the ground around the house.
Joudi Enterprises can reduse fire hazards by removing or mulching fine fuels, fallen vegetation, noxious and environmental weeds, and take away any rubbish or debris that is lying around your property.
 This does not mean wholesale clearing of all vegetation but selective removal of fuel. We can assist with permits for vegetation removal.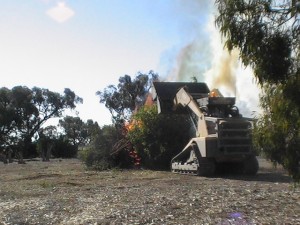 The effect of reducing these fine fuels around your home will reduce the intensity of any fire close to the house and thereby increasing the house's chance of surviving the bushfire.
Joudi Enterprises specialises in the construction and maintenance of fire breaks on private property and crown land parks and reserves. With specialised mulching equipment, vegetation, leaflitter, branches etc are mulched thereby all material stays on site and is distributed accross the ground to enhance water conservation by the use of mulch.